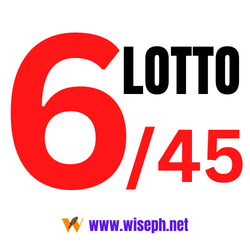 6/45 Lotto – Players have three chances each week to become millionaires using Megalotto 6/45! Monday, Wednesday, and Friday each week.
You must match all six numbers in order to win the jackpot. The Megalotto 6/45 Initial Jackpot Prize (IJP) is 8,910,000.00 (net of the prize agent's commission). The prize sum is rolled over to the following MegaLotto 6/45 draw if no one wins the jackpot in a specific MegaLotto 6/45 draw. If there is more than one jackpot winner, the Jackpot prize will then be distributed equally among all the winners.
What to Do?
Choose six numbers between 1 and 45, or select Lucky Pick (LP) to have the computer choose your six numbers. Each play in MegaLotto 6/45 costs 20.00 per draw. To play with similar chosen numbers for more than one draw, mark your favored number to play on the DRAW board.
System play is likewise accessible for this game also. Just select the 5R, SYS 7 up to SYS 12 choice in your play card slip to play your favored System game and pay the comparing sum. For Megalotto 6/45 Lotto Games Schedule, you may refer to this page 6/45 lotto schedule. ←