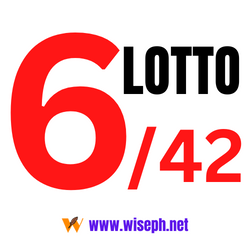 The Philippines' first national lottery game is Lotto 6/42. To win the Initial Jackpot Prize (IJP) of 5,940,000.00 (net of the prize agent's commission), players must choose six (6) numbers between 1 and 42 and match every one of them to the drawn official winning number combination in any order. Up until there is a jackpot winner, the value of the jackpot keeps increasing based on sales(taya) around the country!
What to Do?
Lotto 6/42 tickets cost 20.00 each. You can play Lucky Pick (LP) and let the computer choose your numbers, or you can choose your own 6-number combination from 1 to 42 on each board. Mark the number of draws you'd like to play in the DRAW panel, then play the same set of numbers for as many draws as you'd like.
This game also supports SYSTEM play. Simply choose the 5R, SYS 7 up to SYS 12 option on your play card slip to play the System game of your choice and pay the appropriate sum.
The six (6) balls with numbers 1 through 42 are drawn live every Tuesday, Thursday, and Saturday at 9:00 PM. You win the jackpot if the six-number combination you chose in your ticket matches the six numbers that were officially picked as the winning combination. But if more than one player picks the same winning combination of six numbers, the prize will be split evenly among the jackpot winners.
Anyone who matched 5 out of 6 numbers or fewer is also eligible for consolation or lower tier prizes. If you choose to play the system, for 6/42 Lotto Games Schedule, you may refer to this page 6/42 lotto schedule. ←
Visit the Lotto Archives to learn more about this game.