Sinanglaw is a Filipino dish made with beef sinew simmered in a sour broth with ingredients such as ginger, onions, and vinegar. It is often served with steamed rice and is a popular dish in the Ilocos region of the Philippines. The sourness of the broth is usually derived from vinegar or kamias (a tropical fruit). Some variations may also include tomato sauce, chilies, and other seasonings to add flavor. Sinanglaw is a hearty and flavorful dish that is enjoyed by many in the Philippines.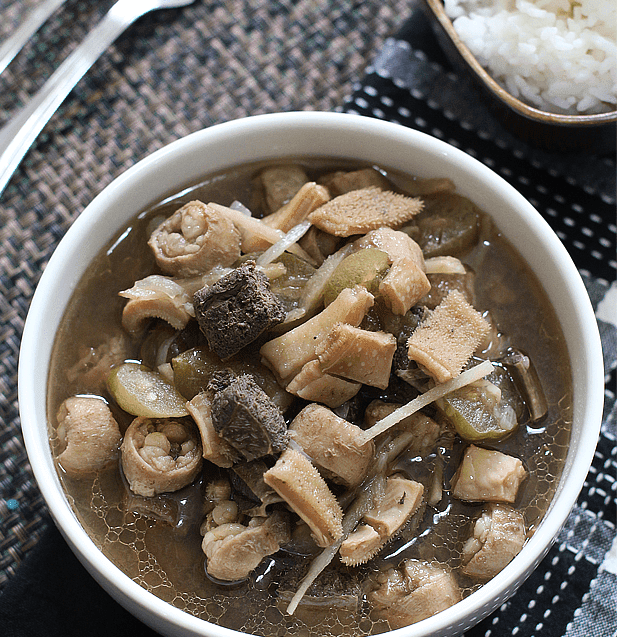 The unique Ilocano Dish Sinanglaw
The famous sinanglaw is considered a traditional Ilocano dish and is popular in the northern regions of the Philippines. It is often enjoyed as a main dish for lunch or dinner and is considered a hearty and comforting meal. The use of sinew, which is a tough and chewy cut of meat, adds a unique texture to the dish and provides a filling and satisfying meal.
The sourness of the broth is a key characteristic of sinanglaw and is usually achieved through the use of vinegar, kamias, or a combination of the two. The sourness serves to balance out the richness of the meat and adds a tangy, acidic flavor to the dish.
Aside from being a delicious meal, sinanglaw is also believed to have health benefits. Sinew, for instance, is a rich source of collagen and is said to improve skin health and help with joint pain. Additionally, the ginger and vinegar used in the dish are known for their anti-inflammatory properties and may help with digestive issues.
In conclusion, sinanglaw is a flavorful and satisfying dish that is enjoyed by many in the Philippines. Its unique combination of sour and rich flavors, paired with the tender and chewy texture of the meat, make it a staple dish in Ilocano cuisine. Visit this page to know more about Filipino unique dishes and delicacies.←